Microsoft has officially launched its new Edge Chromium browser for both Windows and macOS, after a year of development work and beta tests. The new Edge browser is built on the same Chromium source code, on which Google Chrome is based. Microsoft Edge replaced Internet Explorer with the release of Windows 10. Originally available exclusive to Windows 10, rebuilding on Chromium has opened Microsoft Edge to diverse platforms. 
Microsoft decided to choose Chromium as it offers instant web compatibility and the ease of bringing the web browser elsewhere. 
Microsoft is initially targeting its re-built browser at enterprise users of Windows and macOS, but users can also download and install it manually. The company has planned to update Windows 10 users with Edge Chromium, by replacing the current in-built browser. Also, Edge Chromium will be rolled out to everyone in the summertime. 
Microsoft's Edge Chromium Features 
The User-Interface of Edge Chromium has redesigned completely, preserving the look and feel of the original version to minimize the learning curve.

The new Edge includes support for Chrome extensions. Users can download the extensions from the Microsoft Edge store or Chrome Web Store.

Edge Chromium offers a new feature named Collections, that allows you to collate images, text, videos, and anything else from the web.

Microsoft Edge has introduced the Tracking Prevention feature to protect users from online tracking. You have three different levels to choose from. The default settings will block trackers, from the website you haven't visited before. Whereas, a strict setting blocks majority of trackers on the web, but this could cause some parts of the website to fail to load or not working properly.

The anti-tracking features, support for 4K Netflix with Dolby Atmos and Dolby Vision, and Collections are important differentiators over Google Chrome. 
However, right now, some features are missing in Microsoft's Edge Chromium, including both history sync and extension sync. The company is planning to add these missing features later this year.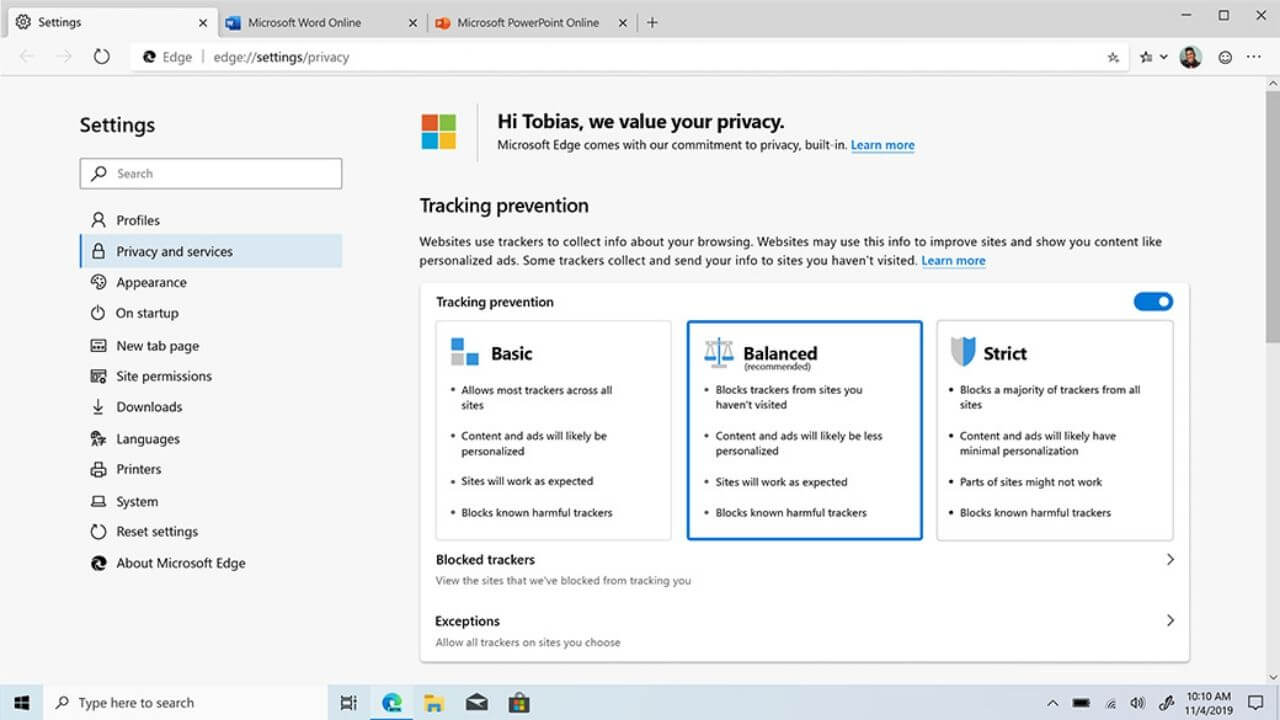 Google has third-party cookies and trackers on Chrome, which the company has planned to terminate, but this might take a minimum of two years. Edge, now being a lot more compatible on the web, has an opportunity to capitalize on privacy-conscious users. 
Edge Chromium supported platforms
Microsoft has released Edge for Windows 7, even though Windows 7 reached its End of life, the previous week. The decision is due to Google's commitment to support Chrome on Windows 7 until July 2021. The new version has also released for Windows 8.1 and macOS and has been updated on both Android and iOS.
Also, OEM's have already given the latest version of Edge; therefore new Windows 10 devices will come with pre-installed Edge Chromium. The latest version is rolling out gradually, with a wider release scheduled for the summertime.