Recently, Intel announced its 13th generation of desktop processors at the Innovation 2022 event. Codenamed 'Raptor Lake', the range currently includes three CPU models, with two different variants each. The company claims that the 13th gen CPU offers up to 15% better single-thread performance, while the multithreaded performance is better by up to 41% over the 12th-generation processors from last year. While Intel's unannounced 34-Core Raptor Lake CPUs were accidentally displayed at the conference, we will stick to covering the official announcement with this piece. Let's get started. 
Comparison chart of all the processors announced by Intel at the Innovation 2022 conference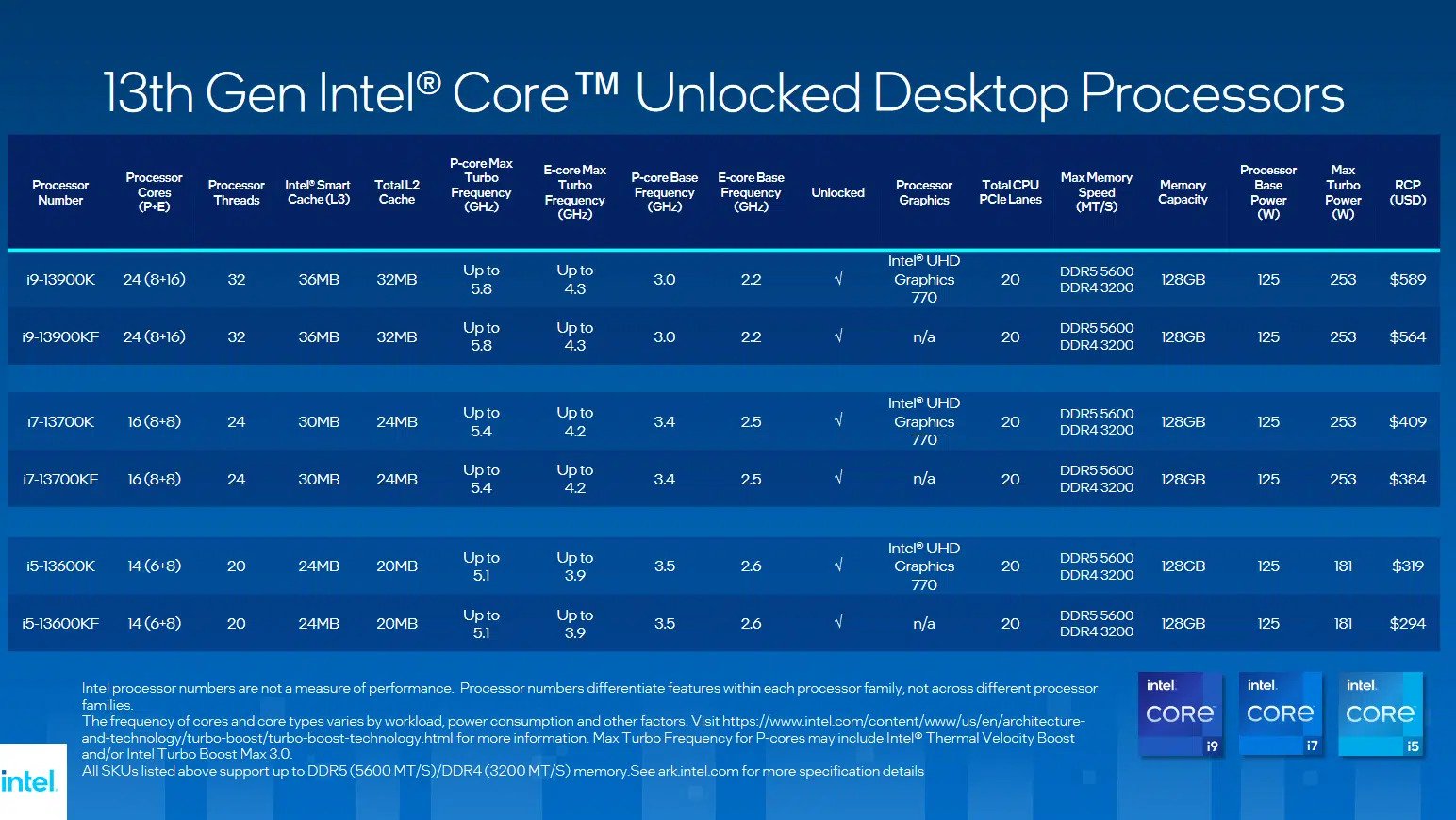 The above comparison chart gives you an idea of all the CPUs announced by Intel at the Innovation 2022 conference. Let's dive deep into all of them turn by turn. 
Intel i9-13900K and 19-13900KF: Specs and Price
The top-of-the-line variant Core i9-13900K hits a peak boost clock of 5.8GHz. To remind you, it is a mere 100MHz better than the Ryzen 9 7950X, which is AMD's top-of-the-line processor. At the company's innovation conference, Intel CEO Pat Gelsinger said that the company expects it to hit 6GHz clock speed in 2023, which ain't a giant leap from where it is now. The CPU also comes in an iGPU-less variant called the 13900KF. 
The Core i9-13900K comes with 8 P-cores and 16 E-cores for a total of 32 threads. If you're unfamiliar with the term, E-cores are the Efficient cores in the system. These cores tend to handle the background system tasks that are running all the time, but they don't consume more power to do their job. On the other hand, P-cores are your standard normal CPU core that deals with heavy tasks and does all the powerful processing while consuming extra power. In other words, you can say it is a power-hungry core of the system. Moving on, the E-cores can boost up to 4.3GHz. It has a base power of 125W and a maximum turbo power of 253W.
Intel hasn't disclosed the official retail price for the CPU. But the RCP (recommended customer price) for the 13900K is $589, and for the 13900KF is $564. However, we expect that you have to pay something higher than that.  
Intel i7-13700K and i7-13700KF: Specs and Price
Stepping down from i9-13900K, we have the i7-13700K. This CPU features 8 P-cores and 8 E-cores with a total thread count of 24. It comes with a 24MB L2 cache and a 30MB L3 cache. This chipset has a maximum clock speed of up to 5.4GHz on the P-cores and 4.2GHz on the E-cores. This one comes with a base power of 125W, and 253W of max Turbo power. The iGPU model 13700K is available at an RCP of $409. Whereas the i7-13700KF is available for an RCP of $384. 
Intel i5-13600K and i5-13600KF: Specs and Price
Intel has also introduced an entry-level CPU, i5-13600K. This chipset houses 6 P-cores, 8 E-cores, and a total thread count of 20. It comes with 20MB of L2 cache and 24MB of L3 cache. The P-cores of this chipset can boost up to 5.1 GHz clock speed, whereas the E-cores go up to 3.9GHz. It comes with a base power of up to 125W and a Turbo power of 181W. The i5-13600K model is priced at $319, whereas the non-iGPU model, i5-13600KF, will cost $294. 
Having all that said, all six models come with 20 PCIe lanes (up to 16 PCIe 5.0 + 4 PCIe 4.0) and are compatible with both DDR5 5600 and DDR4 3200 memory. All the non-F processor models feature the Intel UHD Graphics 770. 
13th Gen Intel Core Processsor Availabality 
Intel confirms that the 13th gen processors will work on the new Z790 chipset motherboards that were announced at the same conference. The latest processors and motherboards will be available starting from October 20.